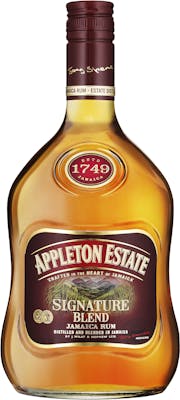 SKU: APPLTNSIG
Appleton Estate Signature Blend
---
---
Appearance: A beautiful harvest gold and amber colour, with remarkable clarity and brilliance. Bouquet: Perfectly balanced complex citrus, fruity and sweet notes, with subtle orange peel, dried apricot, fresh peach, and a hint of molasses and woody notes. Palate: Sweet, honeyed and satiny, melded tastes of marzipan, caramel and brown sugar. Finish: Finishes as serenely as it started in the mouth. How to Enjoy: It's the perfect accompaniment for memorable rum cocktails or simply mixed with cola and an orange peel garnish.

Tell Us Where You Shop

Are you 21 years old, or older?
-->