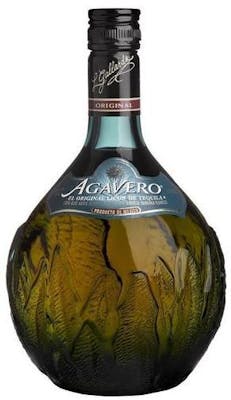 SKU: AGA
Agavero Tequila Liqueur
---
---
Agavero is a 100% blue agave tequila blended with natural Damiana flowers. It was created over a century ago and is still hand-produced. Agavero is a premium liqueur made with natural ingredients, unlike other brands that are made with neutral grain spirits and sweetened with sugar. Agavero is exceptionally smooth and delicately rich on the palate, and can be used as a fine sipping liqueur or as a delicious addition to coffee or cocktails, including the margarita.
Originally around in the mid-1990s, this liqueur was recently reintroduced. Amontillado Sherry-like harvest-gold hue. Surface aromas ring with agave herbal-vegetal perfume while base scents feature wood resin, carnations, key lime and asparagus. Polite, moderately sweet at palate entry, then the taste turns keenly herbaceous at midpalate. Finishes sweet. - P.P.

Are you 21 years old, or older?