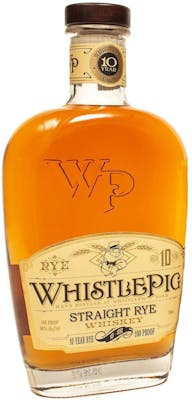 SKU: WHSTLPIGSTRGHTRYE
WhistlePig Straight Rye Whiskey 10 year old
---
---
Inspired by the first recorded circumnavigation of the globe, The Boss Hog VII: Magellan's Atlantic is a Straight Rye Whiskey with an uncharted cask journey that stretches across continents. After seventeen years of slumber in American Oak, it first encounters new Spanish staves from the mountainous forests of northern Spain; a cask nearly impossible to tame yet well worth the effort. Crossing the Atlantic the whiskey finds its finish in fragrant South American teakwood. Intensely aromatic, with cinnamon sugar, allspice, and maple. With time, toasted wood notes arise alongside creamy vanilla, roasted almonds, and a touch of ground espresso. Spicy cloves and sweet brandied cherries abound on the palate, with baking spices rampant. A closer look reveals subtle hints of charred oak, sage, and dark chocolate. Everlasting finish; gobs of cinnamon, oak spice, and a gentle warmth demand another sip.
First, a warning: this is only for those who like their rye big and brawny. It starts off innocuously with a maple-syrup color, and a pretty, complex and subtle scent: honey, vanilla, a sight medicinal tinge and faint clover notes. It feels silky on the tongue and at first, the flavors reflect caramel, burnt orange and a whisper of smoke, but then a mouth-warming wave of tannic bite sweeps over all and lingers for a good long time. Straight up or on the rocks.

Are you 21 years old, or older?