TY KU Citrus Liqueur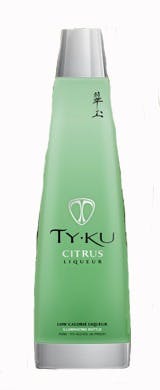 The World's Only Illuminating Bottle. Create your favorite cocktails under 100 calories with TY KU Citrus Liqueur. The refreshing citrus taste of Yuzu (Japanese Lemon-Lime) is deliciously balanced with Green Tea, sweet Goji Berry, Honeydew, Mangosteen and hints of fresh Ginger. These all natural ingredients are expertly blended with TY KU Soju to produce an elegant cocktail experience. TY KU Citrus Liqueur is naturally low calorie and low sugar and is delicious chilled straight, on the rocks or combined with your favorite spirit of choice, creating great tasting cocktails such as the martini, margarita, and mojito for under 100 calories!
Wine EnthusiastFirst, you'll notice the tall, pyramid-like bottle filled with pale jade liquid. Second, when lifting the bottle, you'll notice it lights up. Third, pour and you'll notice the fresh, soft melon scent. The flavor reads tart at first, fading into a juicy, sweet finish, with a touch of mouthwatering acidity. Light bodied and mixable, this is made with soju, as well as yuzu, honeydew and green tea.