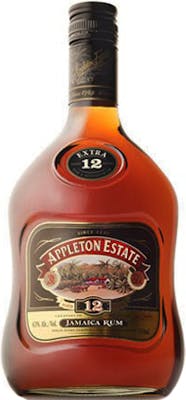 SKU: APPLST12YEAR
Appleton Estate Jamaica Rum Extra 12 year old
---
---
Appleton Estate 12 year old Jamaica Rum is aged for a minimum of 12 years in oak barrels and is touted as an unsurpassed masterpiece of oak ageing. Appleton Estate 12 year old Jamaica Rum is a bold and confident rum that should be enjoyed straight up or on the rocks. And if you're generous enough to bring it out to share with friends, then you're probably generous enough to know you're going to have to go out and get some more. Sit back and enjoy, knowing that you're having one of the world's truly exceptional spirits. Dazzling and bright rich bronze colour. Mature scents of walnuts, nutmeg, orange peel and vanilla. Delicate molasses, Vibrant orange peel, Rich Vanilla, Subtle coffee and cocoa, Toasted oak, Hint of almond. Buttery, creamy brown sugar. Bittersweet and luscious.
A world-class spirit bouquet with wonderfully melded and balanced scents of bacon fat, walnut butter, buttered corn on the cob, oak resin and marzipan. Palate entry is dusty, dry and buttery; the flavor goes full-throttle at midpalate with buttery, creamy, brown sugar and rancio-like tastes. Finish is savory and bittersweet.

Are you 21 years old, or older?